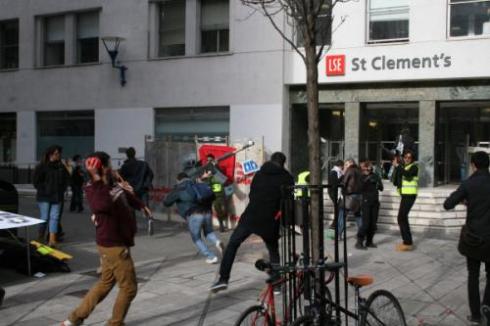 Jewish students have clashed with anti-Israel protesters during a fight at the London School of Economics.
A scuffle broke out between Jewish and Israeli students and demonstrators who had erected a mock "Israeli apartheid wall" as part of an Israel Apartheid Week protest.
LSE's Israel Society condemned the violent scenes and claimed a Jewish student was injured in the melee.
Israel Apartheid Week events are held around the world annually by anti-Israel activists.
The incident at LSE was sparked when students, thought to be Israeli, threw water bombs at the protesters who then responded and a scuffle broke out.
In a statement LSE Israel Society admitted the water bombs had been thrown and added: "We condemn all violence that was seen today. Jewish students were attacked by Palestine Society protestors in response to water balloons thrown at their mock wall.
"The LSESU Palestine Society's interpretation of an Israeli checkpoint… was intimidating for Jewish students as they held [mock] guns, called Jewish students 'Israelis' as they walked through, and the protests further angered students who have been directly affected by the conflict.
"Provocative acts instigated by the Palestine Society today only serve to fuel tensions on campus. Dragging women kicking and screaming along the floor, as the Palestine Society simulated, is not an accurate description of reality; rather it is a disgusting simplification of a complex situation for both sides."
The statement called on LSE to "restore calm" on the campus, and for members of the Palestine Society to apologise for the "provocative nature" of the protest.
A Union of Jewish Students' spokeswoman said: "UJS has consistently opposed these fake security checkpoints as being intimidating against Jewish students. These stunts reduce what is a serious and complex situation between Israelis and Palestinians into theatrical provocations that can only ever prove divisive here on British campuses.
"UJS sincerely appeals to Jewish students at LSE and elsewhere not to be provoked into aggressive actions; and hopes that university authorities will play a responsible and fair part in calming tensions at this time."
An LSE Students Union statement said the checkpoint re-enactment had initially been "peaceful", and that security guards had responded "instantly" when the water bombs were thrown.
"The Students' Union believes in the right to peaceful protest but condemns the violence. The safety and welfare of students is of the utmost importance and the union will be investigating the matter immediately in conjunction with the school."
Students clash at Israel Apartheid Week | The Jewish Chronicle.