The Blaze has picked up the story of the walk-out at UNC and has done some fantastic research on the leader of the protest:
UNC Students Walk Out of Pro-Israel Talk — Led by Student Whose Father Is Tied to Muslim Brotherhood
David Horowitz has never been one for making Muslims feel comfortable. His anti-Sharia activism on college campuses, especially, has yielded interesting results, sometimes including open support for extermination of Jews, as with what happened at the University of California San Diego:
But now Horowitz might not even be getting the chance to speak. In fact, the pro-Israel activist's Monday speech at the University of North Carolina (UNC) led to a mass walkout by students, which left almost no one in attendance to hear Horowitz's talk. The Daily Tar Heel picks up the story:
In Monday's lecture, Horowitz argued that Palestine is trying to destroy Israel and that Israel fights back only in self-defense.

Horowitz criticized groups like the Muslim Students Association, linking them to various terrorist groups. He also compared Muslims to Nazis.

"There are good Muslims and there are bad Muslims," he said. "But there were good Germans too, and in the end they didn't make a damn difference."
You can watch video of the incident here:
The walkout has since spawned multiple disavowals and apologies on the part of other pro-Israel groups, including the campus chapter of Hillel.
But was Horowitz that far off? Information about one of the students involved in the walkout, who has since spoken publicly on behalf of those who did choose to walk out, suggests that there may have been more afoot than simple reaction to "bigotry."
The Daily Tar Heel article quotes one Mariem Masmoudi, a co-founder of the University of North Carolina's Israeli-Palestinian Dialogue Committee, as calling Horowitz's words "completely insulting and destructive."
This sounds innocent enough until you realize that Masmoudi is more than an innocent, offended college student. She is, in fact, an experienced student revolutionary who has blogged about her experiences fighting in the Tunisian "Jasmine" revolution at her aptly named blog, "Youth in Revolt." She describes herself this way:
My name is Mariem Masmoudi, and this site is the electronic equivalent of my life for the 6 months between January and August, 2011.

I withdrew from my last semester at UNC-Chapel Hill before my planned-May 2011 graduation to do what I can in the pursuit of real and lasting democratic reforms. […]

This is a blog about youth in an ACTUAL revolution.
Here's a photo of Masmoudi herself, taken by the Daily Tar Heel. It's worth noting that she appears to be dressed in a far more Western fashion than many other Muslim students: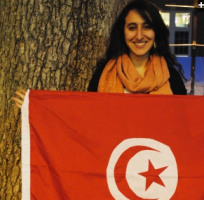 So is that all worth noting regarding Masmoudi's? Not really. As it turns out, not only is she a former youth revolutionary, but her own father runs an organization which arguably has deep ties to the Muslim Brotherhood. Meet Dr. Radwan Masmoudi, former engineer turned co-founder of the Center for the Study of Islam and Democracy (CSID). CSID's bio describes him thusly:
Radwan has written and published several papers on the subject of democracy, diversity, human rights, and tolerance in Islam. In recent years, Radwan has visited, organized events, and spoken at major international conferences in Morocco, Algeria, Egypt, Turkey, Qatar,  Jordan,  Sudan, Nigeria, the Philippines/Mindanao, Germany, South Africa, Lebanon, and Tunisia.
Sounds like Dr. Masmoudi might be one of those Muslim equivalents of the "good Germans," right? Maybe, maybe not. Many of Dr. Masmoudi's efforts have received glowing coverage from the Muslim Brotherhood, including a little gem titled "Islamist Govts Not the Enemy, Say Mideast Experts." The leader of these experts? Radwan Masmoudi. His organization, CSID, also coordinated with the Muslim Brotherhood to host a Tunisian terrorist leader in June of last year.
In the interests of fairness, it should be noted that Masmoudi and his daughter may simply be too naive to know who their friends are. Some might say they have the wrong enemies, if the younger Masmoudi's response to David Horowitz is any guide.
(H/T: Blaze reader Randy D.)
Father of Mariem Masmoudi, Student Involved in UNC Protest of David Horowitz, Has Ties to Muslim Brotherhood | Video | TheBlaze.com.